Instant Pot Chicken Thighs With Risotto
These Instant Pot Chicken Thighs with Risotto are my new favorite Instant Pot recipe! The risotto is really creamy and flavorful without any of the effort. And the chicken is so tender and tasty - truly comfort food at its best.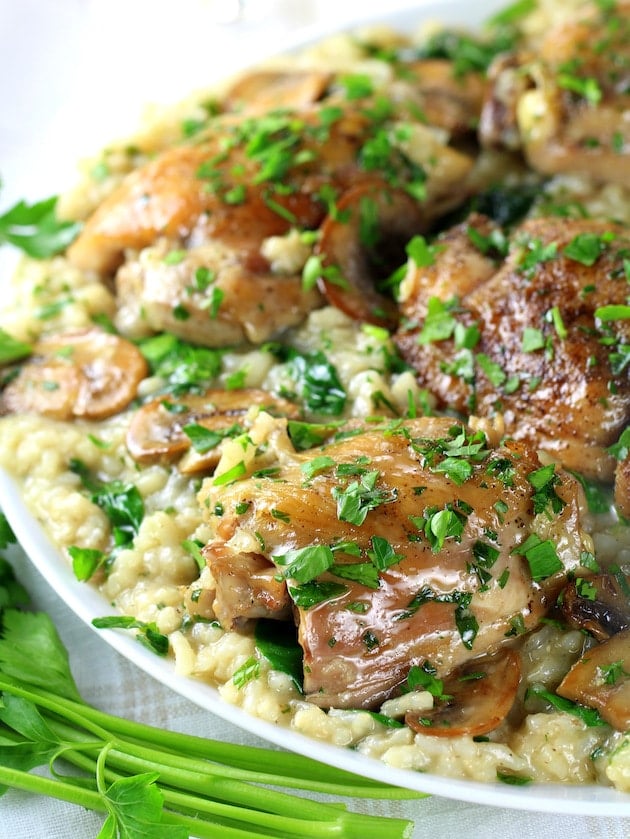 (This post contains affiliate links... read more here.)
Happy New Year my friend! How were your holidays?
By chance did you get an Instant Pot for Christmas or Hanukah or just because they were on sale?
I sure hope so because I'm coming at you with a new and extremely delicious instant pot recipe today!
It's Instant Pot Chicken Thighs With Risotto! The king of all chicken and spinach recipes, it's a ridiculously delicious one-pot meal ready in 30 minutes!
Plus, there's no stirring involved in the mushroom risotto. Ahhh-mazing!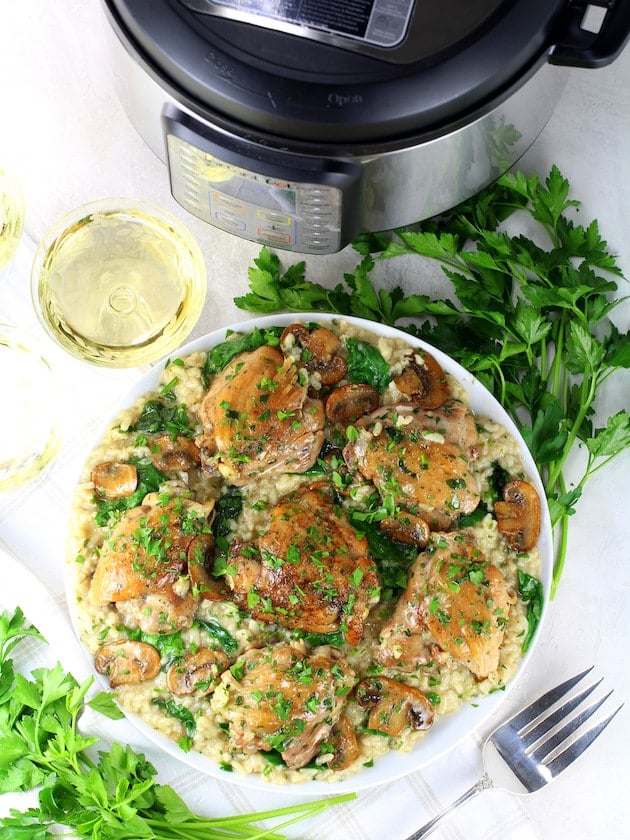 Instant Pot Risotto = a major time saver!
If you know how to cook risotto "the traditional way," then you know what I'm talking about: It's 30-45 minutes of adding hot liquid and stirring constantly.
Don't get me wrong - it's sooo good and all that laboring over a hot stove is totally worth it.
But now you don't have to – just dump, push start, and abracadabra… the most comforting, cheesy and delicious instant pot risotto and chicken ever!
All the amazing deliciousness without any of the work.
Let's just all take a moment of silence and gratitude for this amazing miracle pot… and your new favorite risotto recipe.
…
Thanks for indulging me.
Now let's talk about this tasty chicken thigh and risotto combination.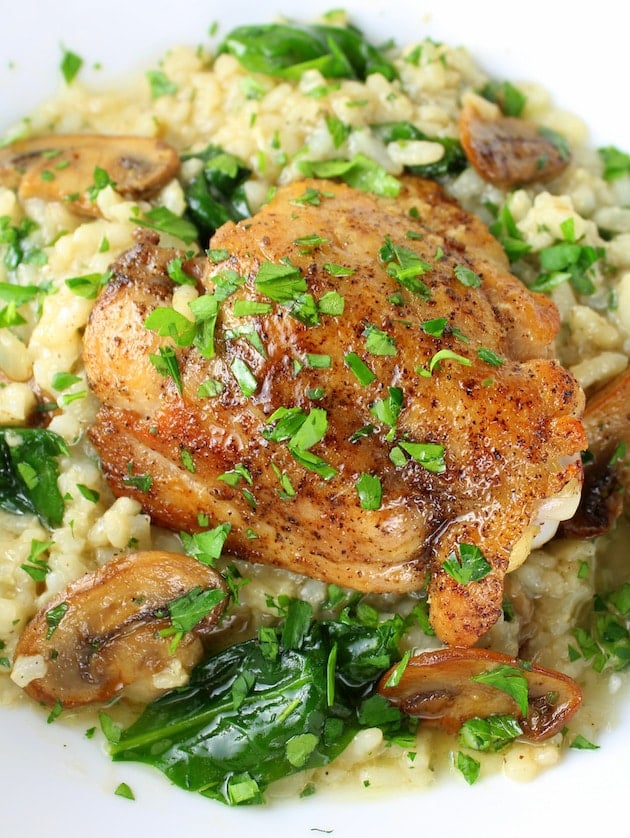 Chicken Thigh Recipes
This is literally the best chicken thigh recipe I have ever made.
When it comes to chicken I don't like to discriminate. I like it all. Chicken breast, chicken thighs, chicken legs, oh and especially chicken wings. Honestly, 90 percent of the time we eat boneless skinless chicken breasts because it's healthier, but now and then a whole roasted lemon thyme chicken or some grilled rosemary lemon chicken thighs are in order.
The B man would always gravitate toward "dark meat," so this instant pot chicken recipe is one of his favorites.
I am using skinless bone-in chicken thighs today. Here's why… one thing the Instant Pot doesn't do during the pressure cycle is create a crispy skin on chicken. So I figure why have skin if it isn't going to be crispy and amazing? Thus I went with a skinless chicken thigh recipe.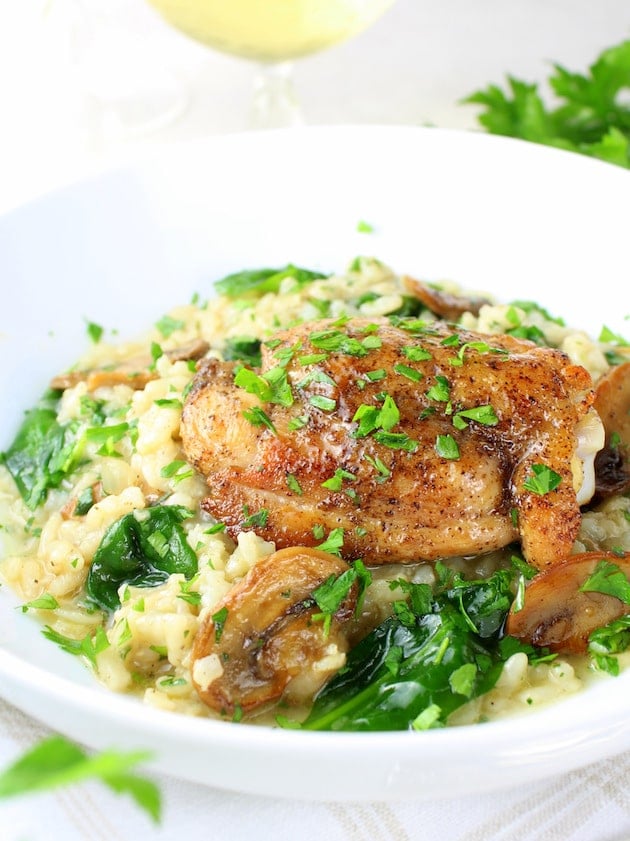 I do on the other hand have an appreciation for meat on the bone and the extra flavor it gives off while it's cooking. So I did use bone-in chicken thighs. You could make this work as a boneless chicken thigh recipe if that was your preference, or even thin boneless skinless chicken breasts.
Chicken thighs or chicken breasts it doesn't really matter, with the white wine risotto and sautéed mushrooms it's one amazing combination.
Let's talk about how this yummy dish comes together.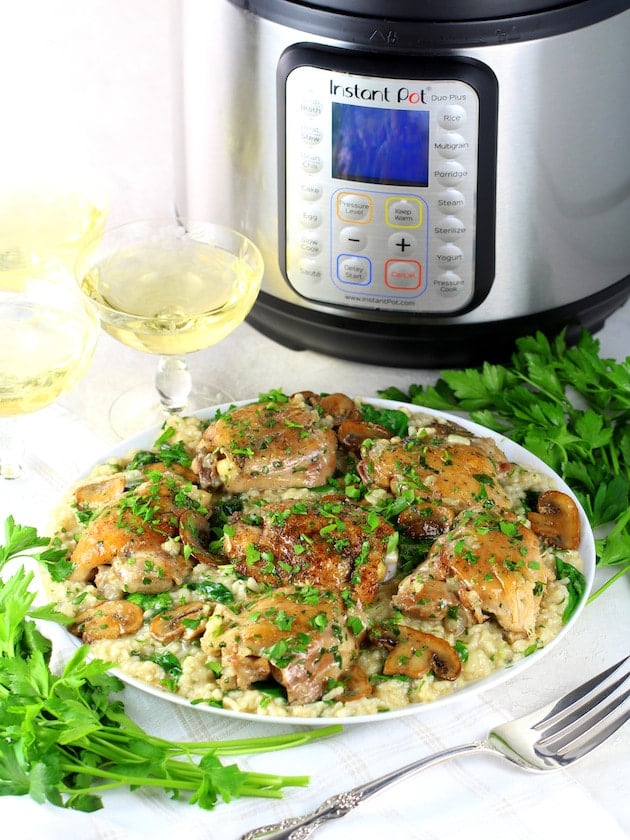 How To Make Instant Pot Chicken Thighs:
Now for the new all-time favorite chicken and spinach recipe in my home:
First, turn your IP to sauté mode. (I used the Instant Pot Duo 6 Quart for this recipe.) Add a little olive oil and allow it to get nice and hot. Add your sliced mushrooms and saute them for 3-4 minutes, stirring once to brown on both sides. Use a slotted spoon to scoop them out and set aside.
(Side note: some people have strong opinions about which types of mushrooms are best for risotto. I'm using button mushrooms in this recipe.)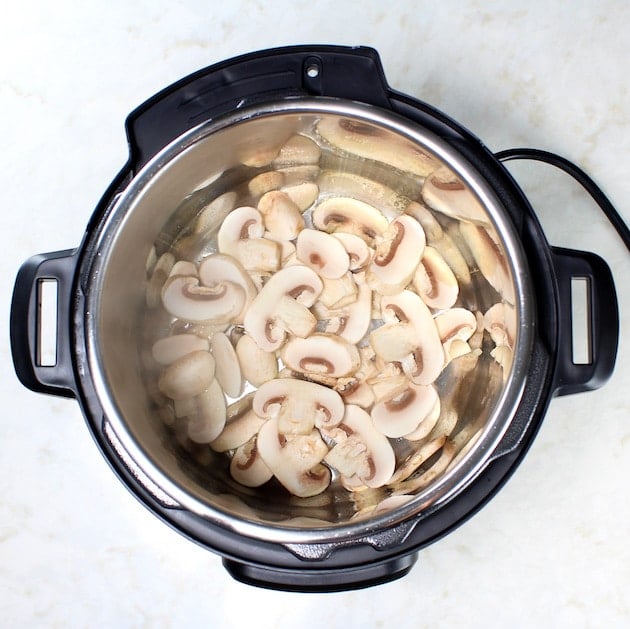 Season your chicken with salt and pepper, add a bit more olive oil, and sear on both sides for about 3 minutes per side. Then remove them from the pot and set aside.
Add a little more olive oil if needed, then sauté the chopped onion and minced garlic for 3-4 minutes.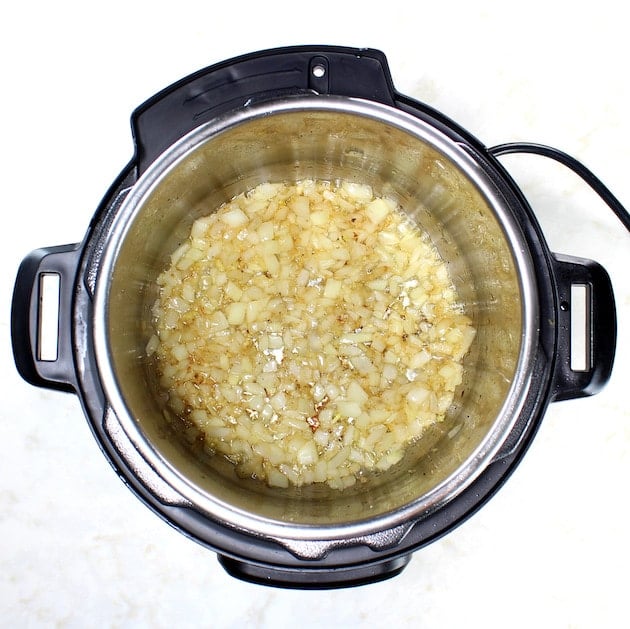 Add butter and scrape loose any browned bits on the bottom and sides of the inner pot, then stir in rice and cook for 2 minutes.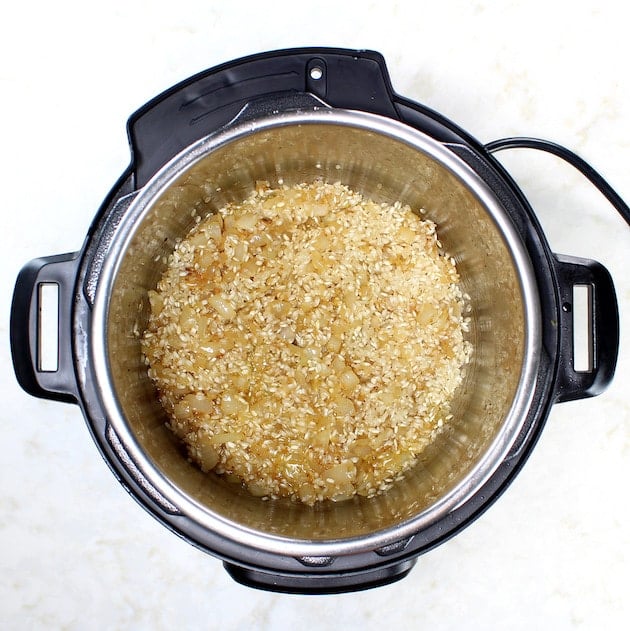 Add in the dry white wine and bring it to a simmer for 3 minutes.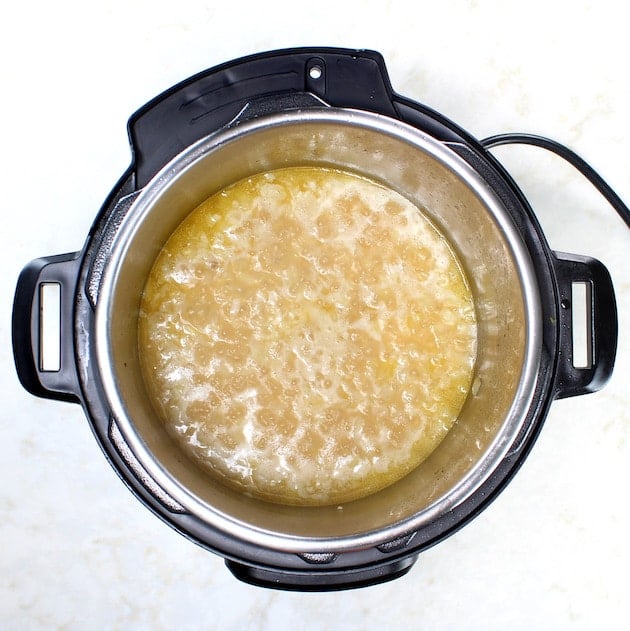 Then add chicken stock, sautéed mushrooms, ½ teaspoon salt and pepper, seared chicken thighs, lock the lid, and pressure cook for 7 minutes.
Allow the pressure to naturally release for 5 minutes, then do a manual release of any remaining pressure. Use a meat thermometer to make sure the chicken reaches an internal temperature of 165 degrees.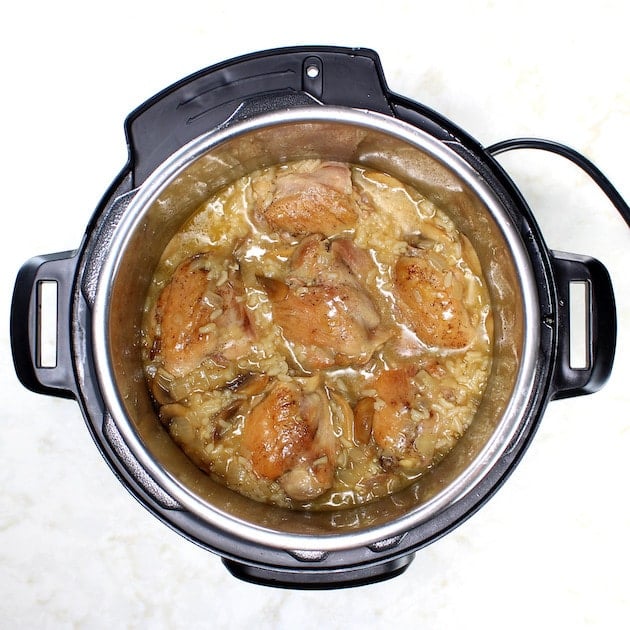 Remove the chicken, then stir the Parmesan cheese, parsley and baby spinach into the risotto, and serve warm with the chicken.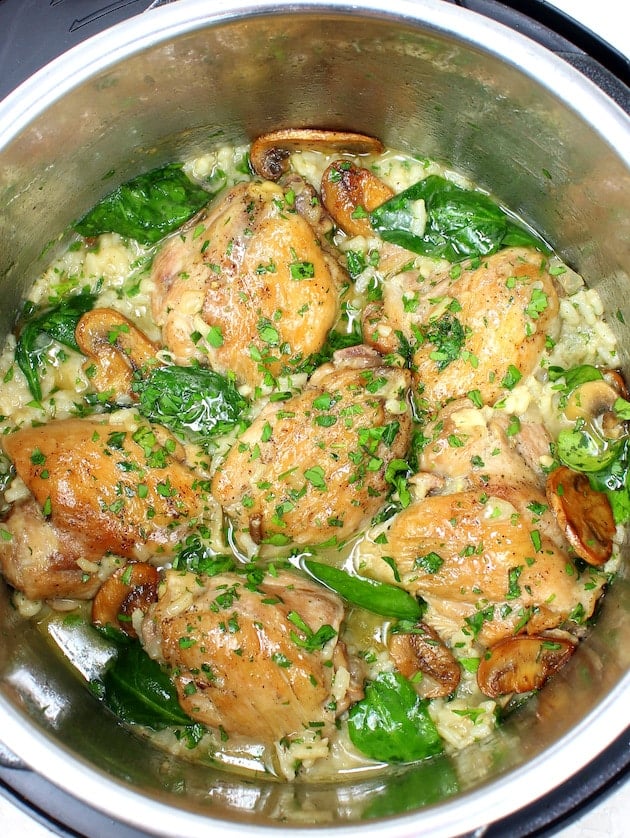 Instant Pot Chicken Thighs With Risotto - A comforting and delicious meal ready in no time at all!
Yield: 6 servings
Instant Pot Chicken Thighs with Risotto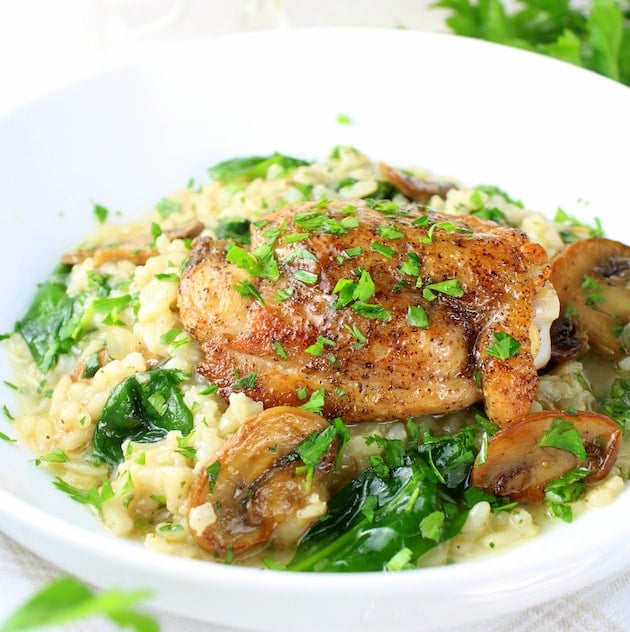 An easy chicken and spinach recipe… and a ridiculously delicious gluten-free one-pot meal that's ready in 30 minutes!
Pressurizing Time
7 minutes
Ingredients
2 tablespoons olive oil
8 ounces button mushrooms, thinly sliced
6 bone-in skinless chicken thighs
1 large onion, finely chopped
3 cloves garlic, minced
2 tablespoons butter
1 cup arborio rice (Italian style rice)
1 cup dry white wine (or vermouth)
½ teaspoon salt and pepper, plus more for seasoning the chicken
½ cup Parmesan cheese, grated
⅓ cup Italian parsley, finely chopped
3 ounces baby spinach
Instructions
Set the Instant Pot to sauté mode. (I used the Instant Pot Duo 6 Quart for this recipe.) Add 1 tablespoon of oil and brown mushrooms for 3-4 minutes.
Remove the mushrooms. Season the chicken thighs with salt and pepper, add another tablespoon of olive oil to the inner pot, and sear chicken about 3 minutes a side then remove and set aside.
Add onions and garlic, and cook about 3-4 minutes.
Add the butter and work the brown bits off the bottom of the pot so they do not burn. Then stir in the rice and cook for 2 minutes.
Pour in dry white wine and simmer for 3 minutes.
Add in the sautéed mushrooms, chicken stock, and a ½ teaspoon salt and pepper, then stir. Place chicken on the top.
Close the lid and set to manual high pressure for 7 minutes. It will take about 7 minutes for the IP to come to pressure.
Once the cook time has completed, allow pressure to naturally release for 5 minutes then manually release by carefully moving the pressure valve to the "Venting" setting. The internal temperature of the chicken should be at least 165 degrees.
Remove the chicken from the pot and stir the cheese and parsley into the rice.
Stir the spinach in, and serve warm with chicken.
Notes
If not everyone wants spinach, just keep the spinach out and add it to individual portions when you are plating the meal.
Nutrition Information
Yield
6
Serving Size
1 thigh with 4-6 oz risotto
Amount Per Serving
Calories

432
Total Fat

16g
Saturated Fat

5g
Unsaturated Fat

0g
Cholesterol

115mg
Sodium

584mg
Carbohydrates

34g
Fiber

2g
Sugar

3g
Protein

28g
PS: if you're still debating about the Instant Pot, check out my latest
Instant Pot Review!
OUR TOP INSTANT POT RECIPES!
Instant Pot Jalapeño Popper Chicken
Instant Pot Beef Thai Red Curry
Instant Pot Spaghetti Squash Buffalo Chicken (Low Carb)
Instant Pot Baby Back Ribs
Instant Pot Garlic Parmesan Chicken Wings