Roasted Butternut Squash, Cranberry and Spinach Salad with a Cran-Cabernet Dressing is a flavorful and filling salad that feels like a meal. This salad is full of tasty ingredients like roasted butternut squash, dried cranberries, baby spinach, shaved parmesan cheese, roasted pepitas, and a warm cran-cabernet dressing. It's perfect for a weeknight meal or a show-stopping side dish for company!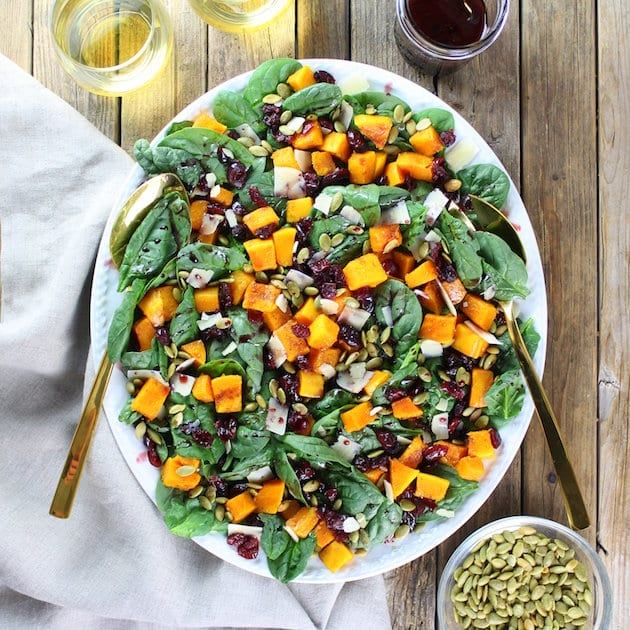 How was your Super Bowl Sunday? Did you sample lots of yummy food?🍴 We had some really delicious fare over here. I know we all look forward to different things on game day, but for me it's mostly about the food. And of course this year the Patriots! #GOPATS #One MoreTime
What a nail-biter of a game. Both teams showed up to plaaay! It made for some great football watching and a bit of nervous eating over here on my part.😁
It's a good thing I made lots of semi-healthy grub because we sure ate a lot that day.💯
Our menu consisted of a lighter buffalo chicken dip made with Greek yogurt and served with peppers and celery, Chicken Andouille Sausage baked in puff pastry dough and served with honey mustard, then multiple home-made pizzas!😋🍕
I had 3 pizza dough balls in the freezer so I figured I should use them up. I'm so glad I did. I had all my ingredients already prepped ahead of time so throughout the game I would head into the kitchen for about 15 minutes and whip up a new flavor combo.
We started with a BBQ chicken pizza with caramelized onions and cilantro topped with Mozzarella and Asiago cheese.🧀 Then came the Buffalo Chicken pizza, which consisted of the dip I made earlier, sliced green onions, a little smear of BBQ sauce (for balance) and then a sprinkling of Mozzarella cheese. And the final pie is a regular in our house – pizza sauce, thinly sliced chicken breast, sautéed colored peppers and onions, finished with both Mozzarella and Asiago cheese. It was such a delicious and easy way to enjoy the day.🙌
Today's recipe has absolutely nothing to do with my Super Bowl menu, but I wanted to pass along this stress-free way of entertaining that provides delicious and fresh food for your guests though out the whole game. None of this "leave all your yummy food sitting out and it looking old and unappetizing." Plus it's a great way to space out your game-day food consumption so no one over-eats and feels too stuffed.😱
… Except, that is, if your team has only scored three points in the first half and the other team has already made three touchdowns. Then some nervous over-eating may occur. But I wouldn't know anything about that (umm - completely not true).🙋
After my eating frenzy (semi-healthy or not) Sunday night, I decided that this week needed to be full of healthy carbs, lean protein and lots of veggies.💚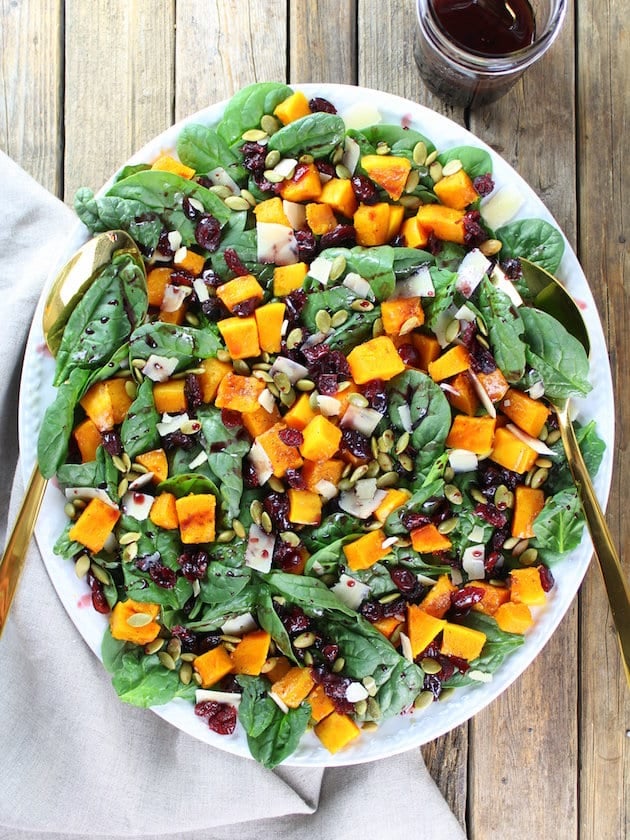 So this Roasted Butternut Squash, Cranberry and Spinach Salad with a Cran-Cabernet Dressing was a definite must.✅ It is so flavorful and filling, it never feels like I'm denying myself when I eat it.
The roasted butternut squash is buttery and savory with a hint of sweetness. It pairs perfectly with sweet dried cranberries, earthy spinach, buttery Parmesan cheese and toasted pepitas. And the dressing just pulls it all together.👌
This dressing is so good, I can just eat it by the spoonful. It consists of cabernet wine, cranberry juice, maple syrup, olive oil, salt and pepper – simmered until it thickens a bit and then drizzled over the salad. It might be my favorite homemade dressing of all time. Wait till you try – I bet you'll agree!
How To Make This Roasted Butternut Squash, Cranberry and Spinach Salad:
The preparation is all quite straightforward. You mix together all the ingredients for the Cran-Cabernet Dressing, simmer on the stove for about 15-20 minutes. Meanwhile, you skin, de-seed and chop up one medium size butternut squash. Toss it in a little olive oil, salt and pepper and roast it in the oven on 400 degrees for 20 minutes.
Then grab your spinach, cranberries, Parmesan and pepitas - assemble and serve.
This salad is the perfect dish to serve when the family is tired of the same-old lettuce and tomatoes with ranch dressing. And it's special enough to make for a nice Sunday Supper with family or friends.✨
Roasted Butternut Squash, Cranberry and Spinach Salad with a Cran-Cabernet Dressing – a delicious healthy and filling salad that you'll be making time and time again!🙌
I would love to connect with you! Leave a comment and follow me on Instagram, Twitter, Facebook, & Pinterest!
Yield: 8 servings
Roasted Butternut Squash, Cranberry and Spinach Salad with a Cran-Cabernet Dressing
A hearty, healthy flavor explosion!
Ingredients
2 cups cranberry juice
1 cup cabernet sauvignon wine, or a full bodied red wine
1 tablespoon (+ 1 teaspoon) pure maple syrup
3 tablespoons olive oil
1 teaspoon (+ ¼ teaspoon) salt and pepper
1 medium butternut squash, skinned, seeds and innards removed and chopped into 1-inch cubes
1 cup dried cranberries
5 ounces baby spinach
3 ounces shaved Parmesan
2 ½ ounces toasted, salted pepitas
Instructions
Preheat oven to 400F.
Add 1 cup cranberry juice, red wine, pure maple syrup, 1 tablespoon olive oil and ¼ teaspoon salt and pepper to a saucepan over medium high heat. Simmer for 15 minutes or until the mixture reduces by half. Then set aside.
While that is cooking, add chopped butternut squash to a bowl and toss with 2 tablespoons olive oil and 1 teaspoon salt and pepper. Roast on parchment-lined baking sheet at 400 degrees for 20 minutes, or until squash is fork tender.
Add 1 cup cranberry juice and the dried cranberries to a microwavable bowl and heat for 2 minutes. Place on the counter and allow to sit for 10 minutes, then drain discard the liquid and set the cranberries aside.
To assemble the salad, place spinach on a platter or in a large bowl, add squash, cranberries, Parmesan, pepitas and drizzle with dressing.
Nutrition Information
Yield
8
Serving Size
10 ounces
Amount Per Serving
Calories

291
Total Fat

12g
Saturated Fat

3g
Unsaturated Fat

0g
Cholesterol

7mg
Sodium

482mg
Carbohydrates

35g
Fiber

3g
Sugar

21g
Protein

8g
Looking for more awesome salad recipes?
Grilled Mediterranean Chicken Salad: