Honey Roasted Carrots with Goat Cheese and Pepitas... sweet and savory and so delicious! The natural sweetness from the carrots and honey caramelize perfectly while roasting. They're finished off with creamy goat cheese and toasted pepitas, creating an amazingly flavorful side dish.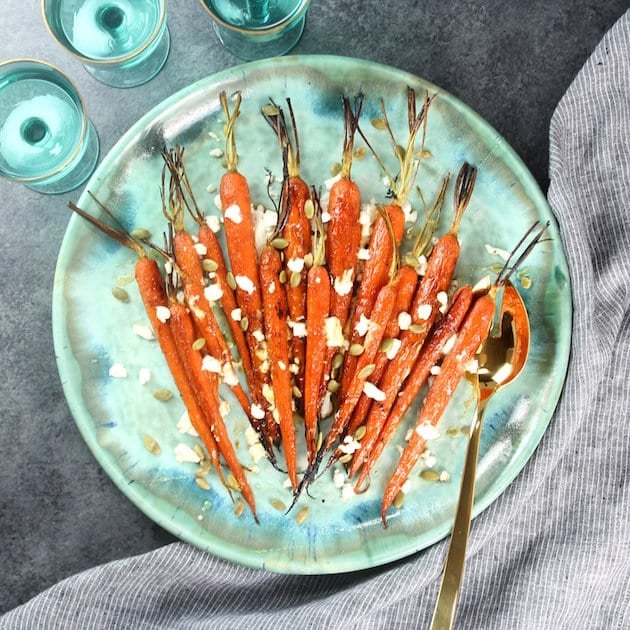 I've shared my love of veggies with you before… growing my own in the garden, and harvesting and eating all that fresh bounty.🍅🌽 There's just nothing like it.💕
I try to love all vegetables equally but to be honest I go in phases where I show favoritism.
For a while, I couldn't get enough kale: kale salad, kale chips, Kale Egg Breakfast Cups, and kale in soup. Then Brussels Sprouts seemed to take over as my veggie obsession: Sweet & Spicy Brussels Sprouts, Brussels Sprouts with Asiago Cheese, Brussels Sprouts with Balsamic Glaze. Yes, those little sprutsies stole my heart.
I was also on a fresh pea kick last spring. I planted peas for the first time and couldn't believe how tasty they were. And unfortunately for me, the local deer, rabbits, and voles all agreed. Yes, they were so yummy… what there was of them.🙄
Last summer I had yet another veggie crush going on.💛 Carrots!
I'll admit I don't eat a lot of carrots unless they're in a slaw or a pot of soup. Don't get me wrong I love them but I just don't think about serving them as a standalone side dish that often. Although, I did find inspiration in some beautiful rainbow carrots and made some Harissa Rainbow Carrots with Yogurt Sauce. Mmm. Sweet spicy and earthy - yum!😋
Are you familiar with rainbow carrots? They are so gorgeous with their colorful hues of orange, yellow and purple. I don't know about you but when food looks pretty I just want to eat it that much more.😁
I especially love the dark purple carrots. The outside is this beautiful plum color and the inside is bright orange. And the flavor… so sweet, rich and aromatic with pine-parsley, woody notes. Love.❤️
If you're wondering why you're seeing an influx of carrot recipes right now it's because they're in season. It's true that carrots are harvested year-round in temperate areas. But true baby carrots (not the shaved down versions of regular carrots sold as "baby carrots" at grocery stores - the immature carrots farmers pull from fields to thin the rows) are available in spring and early summer. Then the rest are left with more room to grow and mature into adult carrots throughout the rest of the summer.☀️
So to stay on trend and give this undervalued veggie a spotlight I created a new delicious carrot side dish… Honey Roasted Carrots with Goat Cheese and Pepitas!🙌👇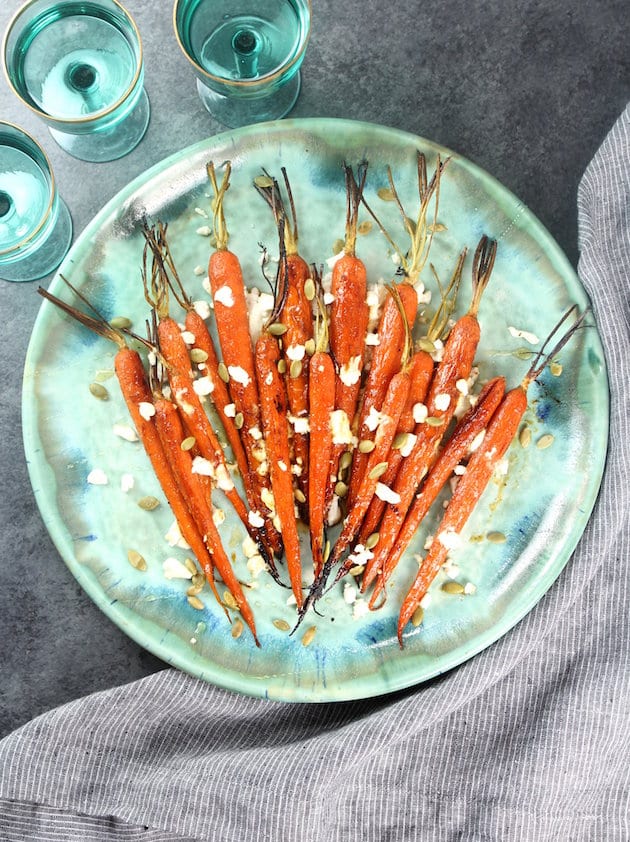 Oh. My. Goodness. The flavor!!🌟
The carrots get sweet and caramelized because of their natural sugar and the honey. The goat cheese adds this salty, savory, cheesy flavor that balances out that sweetness perfectly. Then the pepitas are sprinkled on just before serving to add a bit of texture and crunch.
Super delicious my friend, and they look so pretty served whole on a platter.😍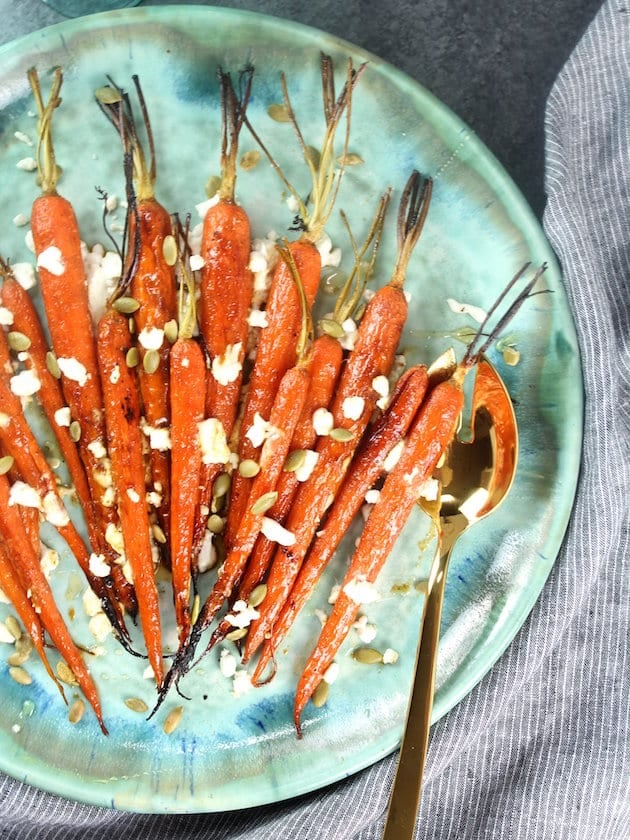 The process is simple… you clean your carrots (leaving them whole), and trim the stems down so there are about 2 inches remaining. Toss them with honey, salt and pepper and roast on a parchment-lined baking sheet for 30 minutes in a 400-degree oven. When the carrots are just tender, sprinkle the goat cheese on them and give them 2 more minutes in the oven for the cheese to get soft and start to melt.
Then remove them from the oven, add more cheese to the platter, layer on your carrots, drizzle with a touch more honey and sprinkle with roasted, salted pepitas.✨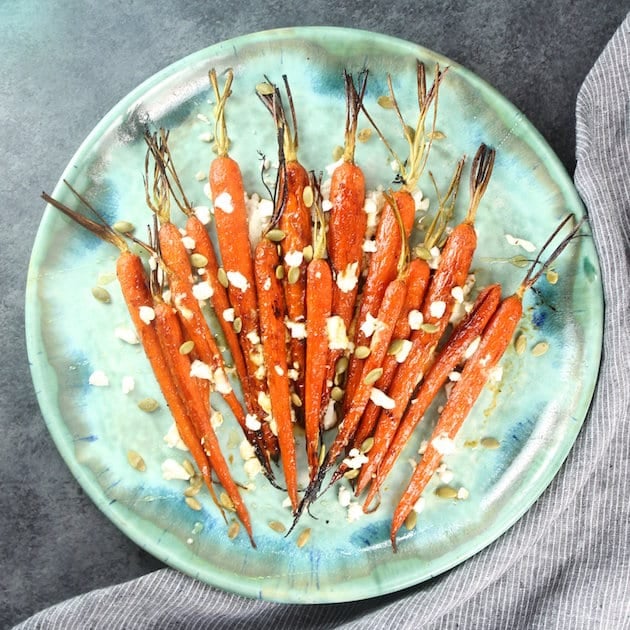 These Honey Roasted Carrots with Goat Cheese and Pepitas are the perfect balance of sweet and savory. A simple and easy side dish that delivers tons of yummy flavor!👌
I would love to connect with you! Leave a comment and follow me on Instagram, Twitter, Facebook, & Pinterest!
Yield: 5 servings
Honey Roasted Carrots Recipe with Goat Cheese and Pepitas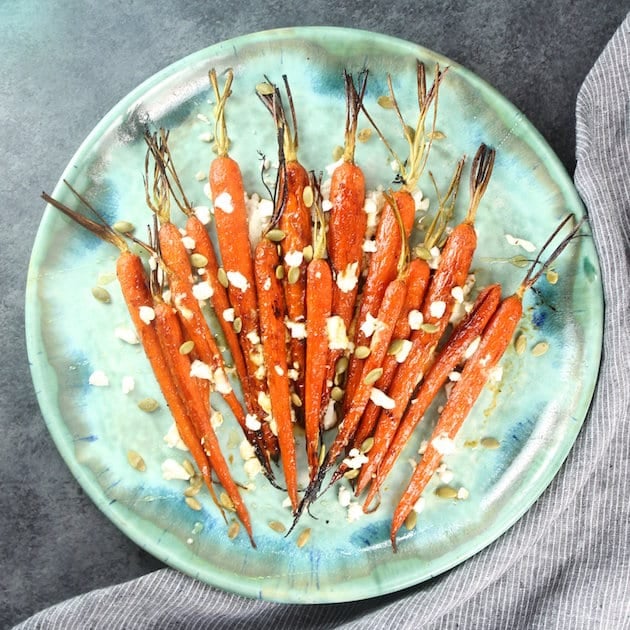 Honey Roasted Carrots Recipe with Goat Cheese & Pepitas... sweet & savory & so delicious! Perfectly caramelized, finished w/creamy goat cheese & toasted pepitas.
Ingredients
2 bunches of carrots – about 16 total
3 tablespoons honey
2 tablespoons roasted salted pepitas
2 tablespoons apple cider vinegar
1 tablespoon olive oil
3 ounces goat cheese, crumbled or chopped into ½ inch pieces
Pinch of cayenne
½ teaspoon Salt & pepper
Instructions
Preheat oven to 375F.
Clean and dry carrots, leaving them whole, and trim the stems down to about 2 inches.
Mix together 2 tablespoons of honey, cider vinegar, olive oil, salt, pepper, and a pinch of cayenne, then pour the mixture over the carrots and toss. Place the carrots on a parchment-lined baking sheet and roast for 35 minutes.
When the carrots are just tender, sprinkle ¾ of the goat cheese on them and roast for 2 more minutes, until the cheese softens and starts to melt.
Meanwhile, sprinkle the remaining goat cheese on a serving platter.
Remove carrots from oven, using a spatula transfer from the baking sheet and place on the platter with the goat cheese.
Drizzle with 1 tablespoon of honey, sprinkle on roasted pepitas, and serve warm.
Nutrition Information
Yield
5
Serving Size
5 ounces
Amount Per Serving
Calories

200
Total Fat

9g
Saturated Fat

3g
Unsaturated Fat

0g
Cholesterol

7mg
Sodium

327mg
Carbohydrates

13g
Fiber

1g
Sugar

11g
Protein

5g
Looking for more amazing veggie recipes?