Grilled Veggies and Corn Salad with White Balsamic Dressing... vibrant, healthy and so delicious! It's chock full of the best things summer has to offer... cherry tomatoes, zucchini, red onions, corn cut off the cob and a sweet and tangy white balsamic vinaigrette.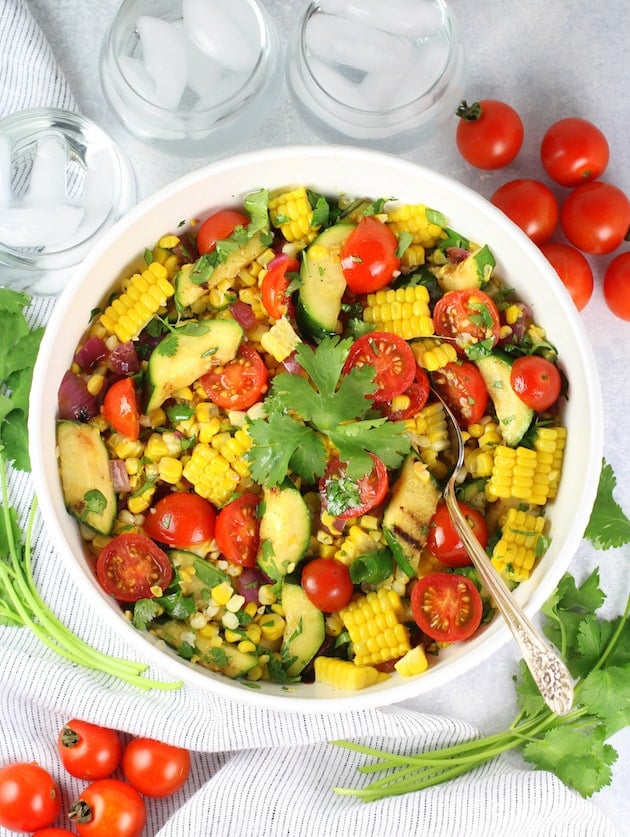 There is nothing better than grilled fresh seasonal vegetables, well, except for maybe a whole salad full of them! Not only are they the most flavorful because they're at their prime state of ripeness, but they're grilled to add a hint of smokiness while the natural sugars caramelize perfectly. Ahh, summer salad recipes are the best - like this Grilled Veggies and Corn Salad with White Balsamic Dressing!!
Since we live in Florida I've been enjoying corn on the cob for weeks now. It's just so good - it must be everyone's favorite summer time veggie. It's so delicious and so versatile, there are just so many corn recipes to enjoy: fresh corn on the cob (of course), corn salad recipes, corn dips, corn cakes, corn chowder, corn tacos or enchiladas, corn relish, corn bread… what am I forgetting?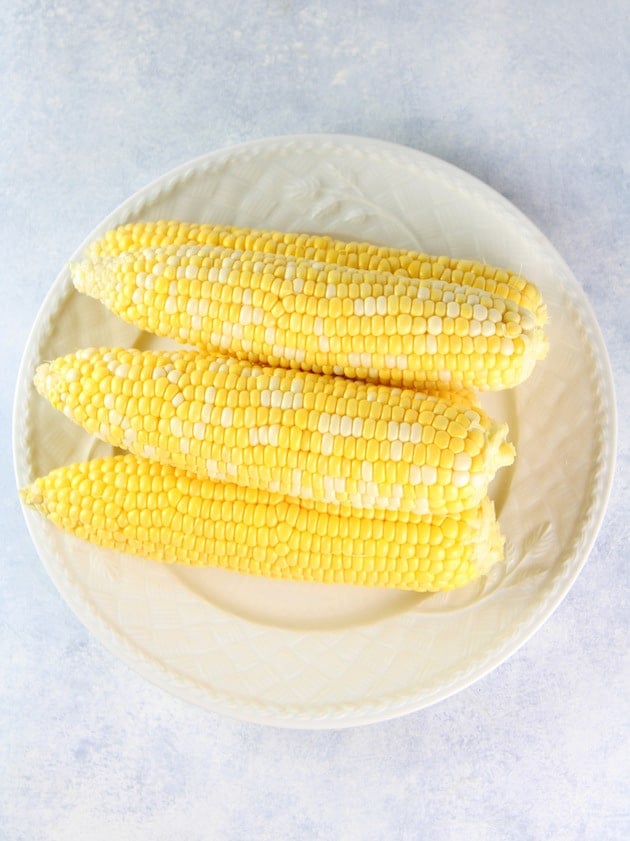 Today's salad recipe is not only full of yummy sweet corn but other tasty seasonal produce as well like zucchini (aka courgette), red onion, and cherry tomatoes - from my garden! Yes – you read that right, from my garden.
Since it's so warm in Florida we actually have two growing seasons. One that starts in March, and then another that starts in September. We planted our cherry tomatoes in March and have been enjoying them for the past month or so. I love how juicy and sweet they are, and watching them ripen is just co cool. The ones closet to the main branch ripen first, creating a beautiful ombré effect. Nature does it best – that's for sure!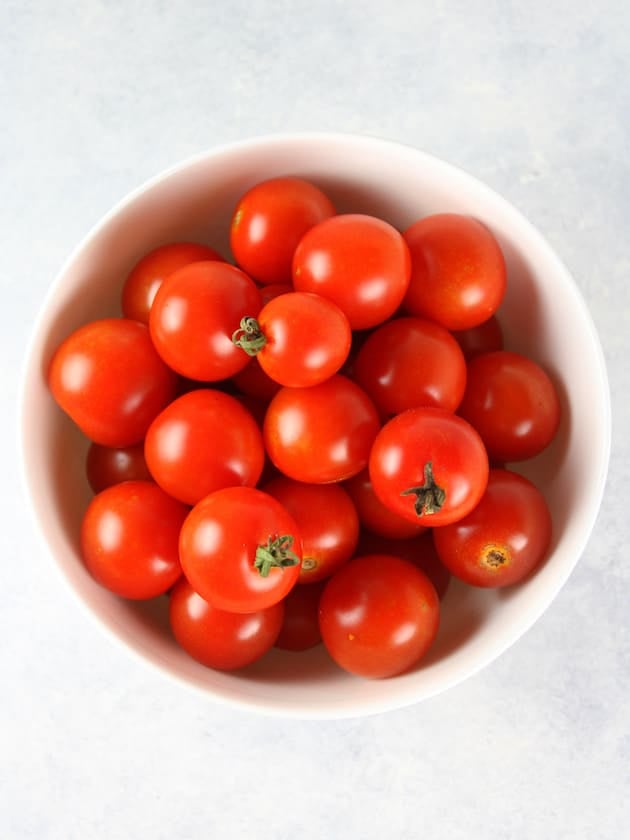 Sometimes it's hard for me to find cherry tomatoes at the grocery store, so you could always swap them out for grape tomatoes in this recipe. But when it comes to cherry tomatoes vs. grape tomatoes there is no contest in my opinion – cherry tomatoes win hands down every time. For today's veggie salad I simply sliced them in half so they would share all of their juices with the rest of the veggies.
We've also been enjoying lots of zucchini and squash from the garden this season. We had sausage and veggie stuffed baked zucchini boats, sausage and peppers with zucchini noodles, roasted zucchini and squash with feta and tomatoes, chocolate chip zucchini bread… you name it we've made it. It's been like Zucchini-fest 2018 over here. Not even kidding. Our plants have finally stopped producing, so the ones for this recipe actually came from my local grocery store.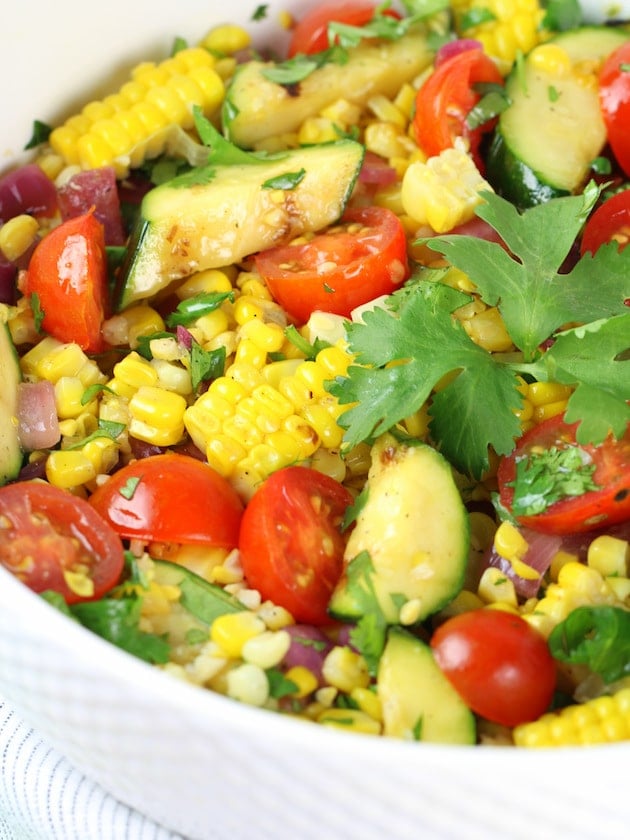 A few tips on how to grill zucchini:
Personally, I like grilling the smaller ones best. My favorite way to grill them is by slicing them in half longways, spraying them with grill spray and seasoning with salt and pepper. This method prevents them from falling through the grates and makes them easy to flip. I usually grill them for 3-4 minutes with the cut side down, then turn them over for another 2-3 minutes depending on how big they are. Then remove from the grill and slice them on the diagonal. So easy and always delicious.
I really love red onion but sometimes they can be too strong. I find that grilling them tones them down and gives them a hint of sweetness. For today's grilled vegetable salad, I cut my onion into thick slices, sprayed them with grill spray and seasoned with salt and pepper. They can be more difficult to flip so you can either just grill them on one side for 3-4 minutes, or flip them after 2 minutes and continue to cook for 2-3 more.
I boiled my corn on the stove for 5 minutes, then set it on the grill for 2 minutes on two sides to give it a little bit of that smoky grilled flavor. You can skip the grilling step and just allow them to cool, then carefully cut the corn off the cob. Either way it's corn… and when it's corn season it always tastes fantastic!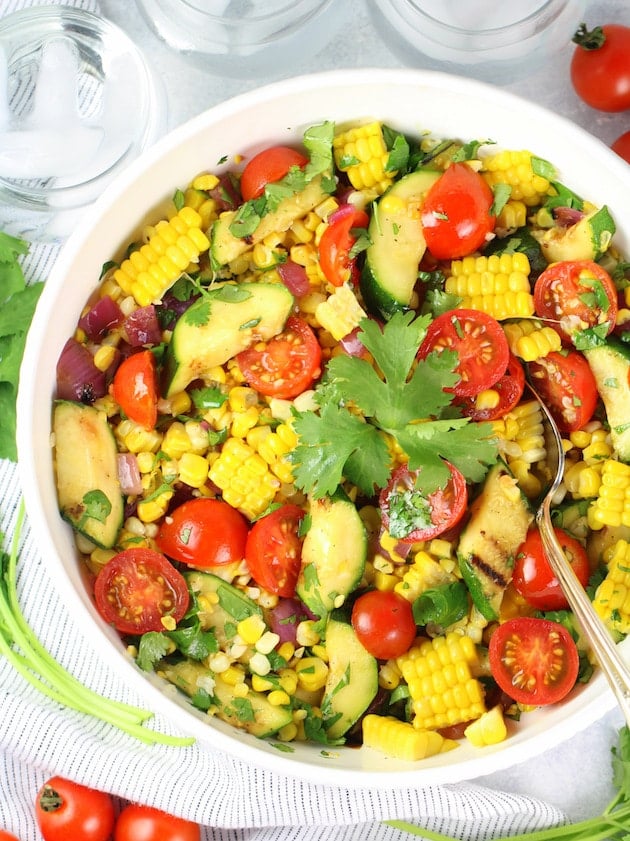 There is just so much healthy goodness in this salad… grilled zucchini, grilled red onions, fresh corn and cherry tomatoes! All drizzled with the most delicious white balsamic vinaigrette.
I love using white balsamic vinegar in my salad dressings. It has some of the same sweetness of regular balsamic vinegar but it doesn't dim that beautiful vibrant color of your summer vegetables. And I for one want my food to not only taste delicious but look pretty too.
I paired this gorgeous grilled salad with my Grilled Chili Lime Shrimp - it was perfection!
This Grilled Veggies and Corn Salad with White Balsamic Dressing is healthy, easy and so delicious! The perfect salad for picnics, BBQ, pool parties and laid back summertime eating!
I would love to connect with you! Leave a comment and follow me on Instagram, Twitter, Facebook, & Pinterest!
Yield: 6 servings
Grilled Veggies and Corn Salad with White Balsamic Dressing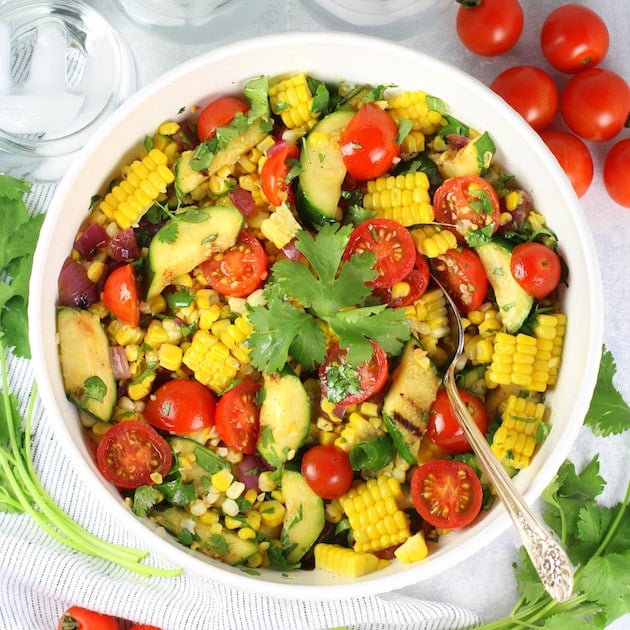 Grilled Veggies and Corn Salad with White Balsamic Dressing - It's chock full of the best things summer has to offer... cherry tomatoes, zucchini, red onions, corn cut off the cob and a sweet and tangy white balsamic vinaigrette.
Ingredients
For The Salad:
5 ears of fresh corn
2 small zucchini
10 ounces cherry tomatoes,, sliced in half
½ large red onion, sliced into ½-inch slices
½ cup chopped cilantro
For The Dressing:
¼ cup white balsamic vinegar
3 tablespoons extra virgin olive oil
1 tablespoon pure maple syrup
¼ teaspoon salt
¼ teaspoon pepper
Instructions
Bring a large pot of water to a boil, then add corn. Set time for 5 minutes and return to a boil. After 5 minutes remove from boiling water.
Spray with cooking spray then grill for 2 minutes per side. Using a sharp knife, carefully slice the corn off the cob and place in a large serving bowl.
Spray zucchini and sliced onion with cooking spray, season with salt and pepper, then grill for 3-4 minutes per side.
Slice grilled zucchini into 1-inch slices and chop grilled onion. Add to large serving bowl and toss with chopped cilantro.
To make dressing, whisk together white balsamic vinegar, extra virgin olive oil, pure maple syrup, salt, and pepper. Fold into salad, garnish with more cilantro, and serve.
Nutrition Information
Yield
6
Serving Size
8 ounces
Amount Per Serving
Calories

104
Total Fat

7g
Saturated Fat

1g
Unsaturated Fat

0g
Sodium

111mg
Carbohydrates

9g
Fiber

1g
Sugar

6g
Protein

1g
PS: Here's a list of vegetables that you could add or swap out for the grilled veggies in this salad:
Grilled summer squash
Grilled eggplant
Grilled sweet peppers
Cucumber
Avocado