This Asparagus Salad Recipe with Eggs and Prosciutto is light and fresh and perfectly filling.  With soft-boiled eggs, al dente asparagus, pea shoots, Asiago cheese, prosciutto and a lemon-Dijon Vinaigrette.  It's a delicious brunch or side salad for a special occasion or just celebrating spring.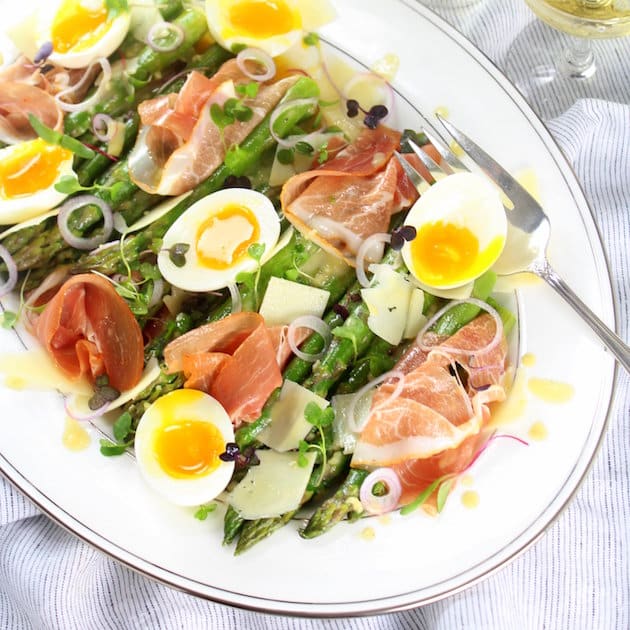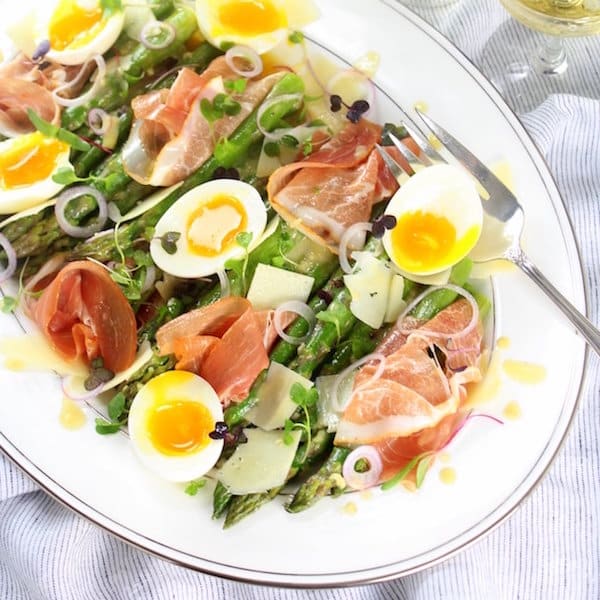 Asparagus Salad with Prosciutto, Soft Poached Eggs and a Dijon Vinaigrette
Asparagus Salad with Eggs and Prosciutto: with soft-boiled eggs, al dente asparagus, pea shoots, Asiago cheese, prosciutto and a lemon-Dijon Vinaigrette.

Ingredients
For The Salad:
2

bunches medium-to-thick asparagus stalks (24 stalks), trimmed

3

large eggs

1

small shallot or small red onion, very thinly sliced, rings separated

6 - 8

slices

of prosciutto

2

ounces

pea shoots

1

ounce

Asiago cheese, shaved
For The Vinaigrette:
juice from one lemon

2

tablespoons

Dijon mustard

1

teaspoon

honey

1

garlic clove, minced

1

tablespoon

Extra Virgin Olive Oil

pinch of pepper

pinch of salt
Instructions
For the salad:
Put a large pot of salted water on to boil. Fill a large bowl with ice water and place next to the stove.

Once water is boiling, add asparagus and wait for water to return to a boil. Continue to cook asparagus for 2½ minutes, then immediately transfer to the ice water with a slotted spoon.

Return water to a boil and add eggs, then cook for 7 minutes. While the eggs are cooking remove the asparagus to a clean kitchen towel and pat dry.

Transfer the eggs to the ice water and let stand until cool. (Tip: When eggs are cool enough to handle, remove from the water and gently crack each egg on the counter in several different places. Then return back to the ice water to cool. This will help the egg shell to come off more easily.)
For The Vinaigrette:
Combine all Vinaigrette ingredients in a bowl, and whisk until dressing comes together.
To Serve:
Gently remove shell from each egg, and cut each egg in half.

Arrange the asparagus and eggs on a large platter and sprinkle with salt and pepper. Then drizzle with the vinaigrette. Top with prosciutto, shallot, sprouts and Asiago Cheese.

Recipe Notes
To add a slight smoky flavor sprinkle the salad with smoked paprika.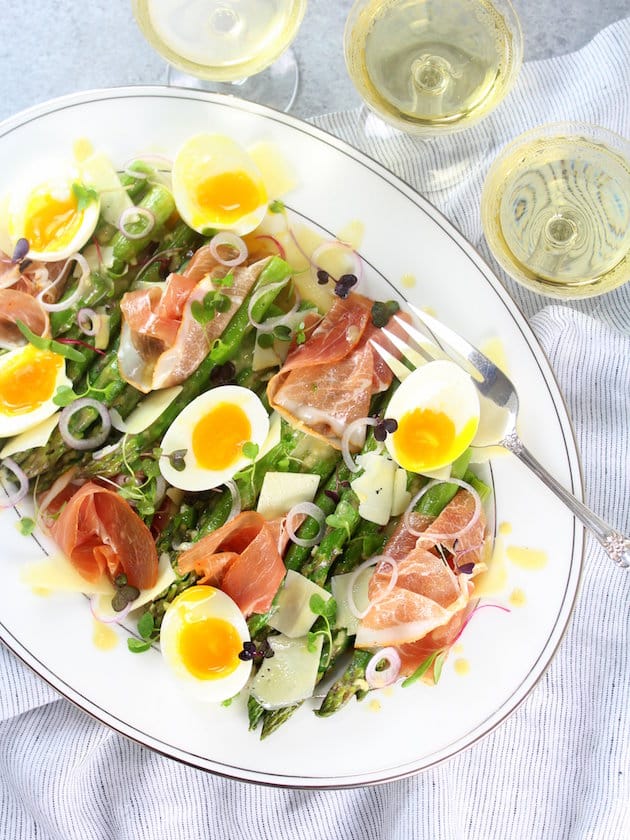 Check out these other great salad recipes!
Grilled Mediterranean Chicken Salad