Instant Pot Chicken Noodle Soup – the most luscious and satisfying chicken soup ever! With bold chicken stock, chicken breast and chicken thighs, carrots, onions, garlic and celery, fresh herbs and spices, and so much love! It's so scrumptious and slurpilicious you won't be able to stop with just one bowl!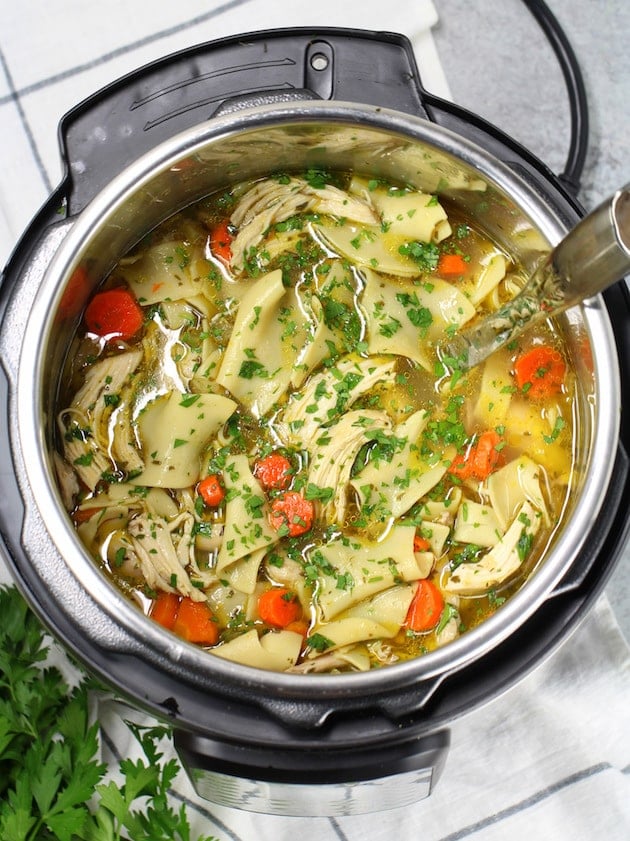 Jump to:
(This post contains affiliate links - read more here.)
Why I Love Instant Pot Chicken Recipes!
Have you taken the plunge and purchased an Instant Pot yet? I was on the fence about them last year but I made the "nice list" and Santa came through for me. I became the happy owner of the DUO Plus 6Qt 9-in-1 Instant Pot (<-affiliate link). Isn't she pretty?
My favorite thing to cook in this ole' girl has been chicken.
An Instant pot chicken recipe is the bomb dot com! Not just plain instant pot shredded chicken but yummy, flavor infused chicken recipes. You probably know this already, but I don't do plain very well. It's flavor or bust for me people!
Let's review my instant pot chicken recipe timeline… First, there was the Shredded Mexican Chicken (AMAZING) then came the Buffalo Chicken and Spaghetti Squash (ridiculously delicious)... then this Instant Pot Chicken Noodle Soup (chicken noodle soup perfection). Most recently I've added my Instant Pot Chicken Thighs With Risotto,and these amazing Instant Pot Garlic Parmesan Chicken Wings!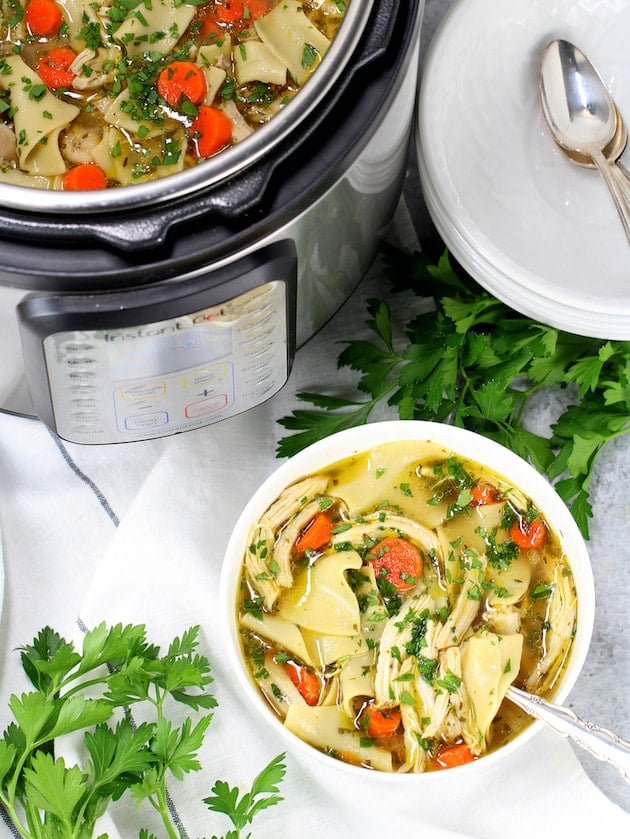 I'm just over here trying to guess what you might want to eat next. So please feel free to shoot me an email or comment below and tell me what you want. I love a good challenge - or just some direction - and you should know by now I'm so your girl!!!
But more about this savory elixir from heaven…
This instant pot chicken soup is so delectable! It tastes like the broth has been simmered for hours and hours in grandma's kitchen. It's so rich and flavorful – I can honestly say I like it better than my regular stovetop recipe - may she rest in peace.
I must admit luscious chicken broth is the heartbeat of this recipe. I should mention I especially like College Inn's Bold Chicken Stock. It's brimming with so much chicken flavor - what can I say? I'm all about as much rich deep flavor that I can get.
How to make Instant Pot Chicken Noodle Soup:
First things first… turn your Instant Pot on to the sauté (high) mode and let it heat up, add your olive oil, onions and garlic, and sauté 3 minutes. Then stir in your carrots, celery, herbs and spices.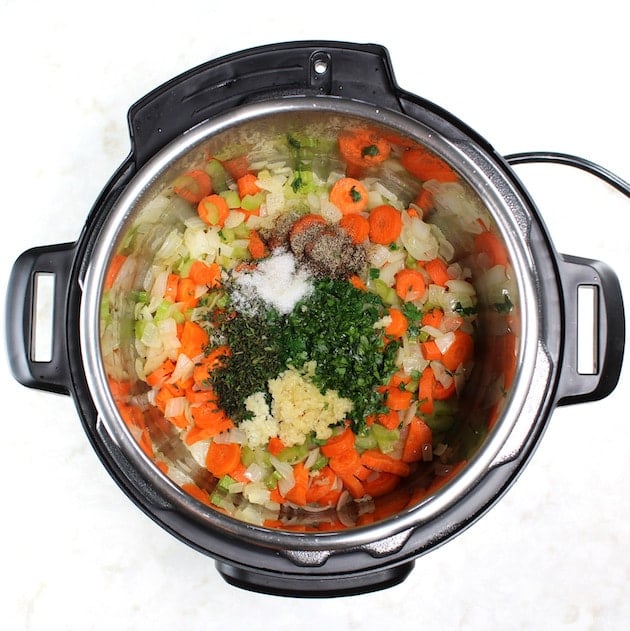 Next, add your chicken stock, the chicken breast and chicken thighs, cover and seal the lid and pressure cook for 15 minutes.
When the time is up, cover the pressure nozzle with a kitchen towel and release the pressure manually.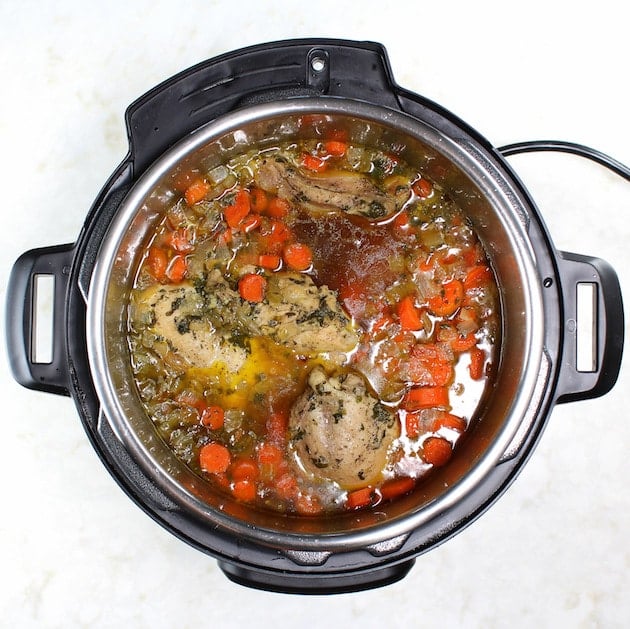 Remove the chicken from the pot and turn the pot to the sauté mode. When it starts to simmer add in your noodles. Cook them for 6 minutes and turn the pot off. (The noodles will keep cooking in the hot broth so no need to cook them for the full time specified on the package - unless you just really want to… but don't do that!)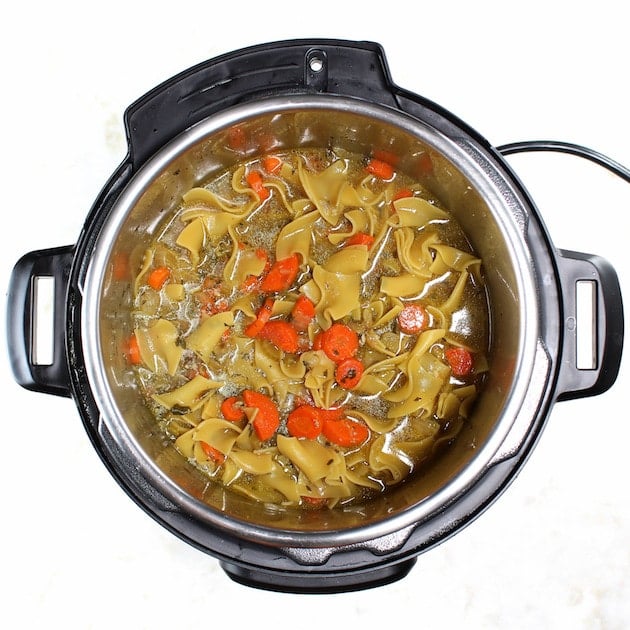 Meanwhile, shred your chicken and discard the bones. Mix the chicken back into the soup, add some more fresh parsley and it's ready to serve!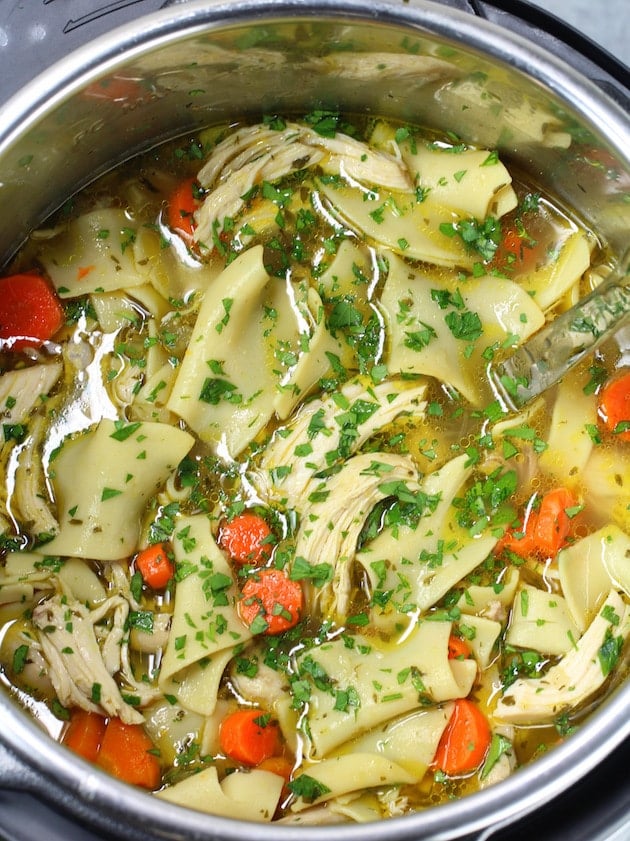 Instant Pot Chicken Noodle Soup – the most delicious flavorsome and satisfying chicken noodle soup evahh!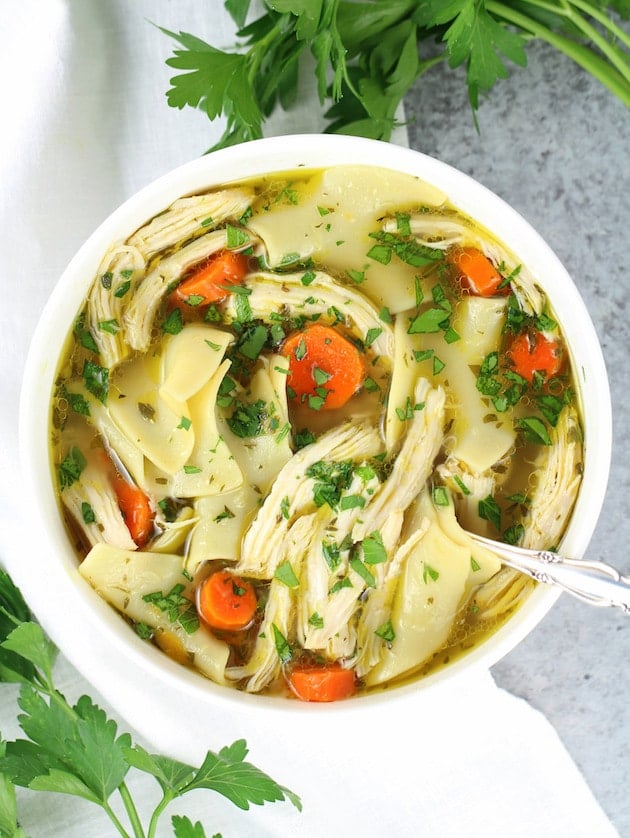 This recipe is sure to be one of your go-to soups this season! Enjoy my friend!
If you're still on the fence about the Instant Pot... read my latest Instant Pot Review here.
Yield: 8 servings
Instant Pot Chicken Noodle Soup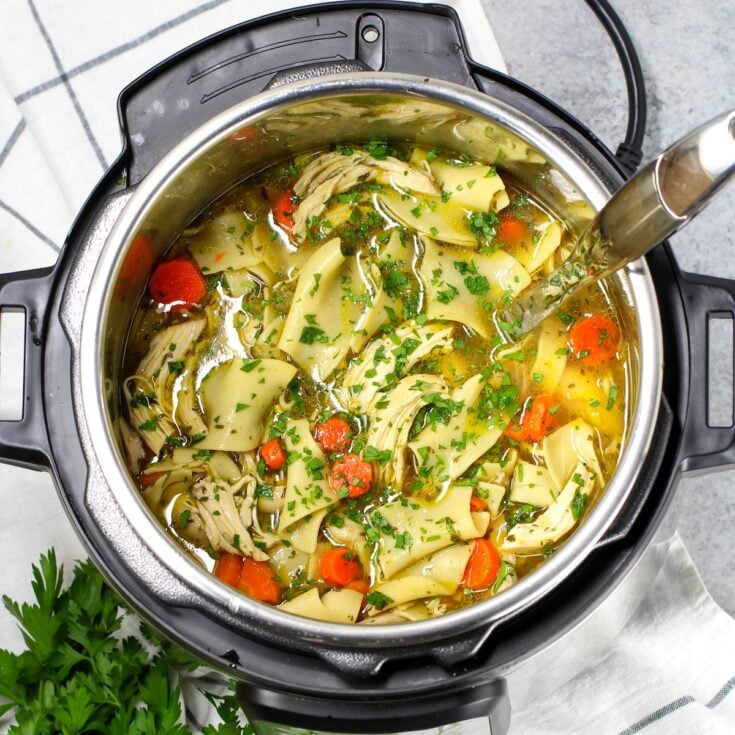 Instant Pot Chicken Soup... the most luscious and satisfying chicken soup ever!
Pressurizing/Venting Time
25 minutes
Total Time
1 hour
5 minutes
Ingredients
2 pounds skinless bone-in chicken (I used bone-in chicken breast and bone-in chicken thighs), *see note
1 teaspoon salt (plus more to season the chicken)
½ teaspoon pepper (plus more to season the chicken)
1 tablespoon olive oil
1 large onion, diced
3 garlic cloves, minced
3 large carrots, sliced
2 celery stalks, chopped
¼ cup fresh finely chopped parsley, plus more for garnish
1 tablespoon minced fresh thyme, rounded
1 bay leaf
6 ounces egg noodles (I used Mueller's Hearty Homestyle Egg Noodles), *see note
garnish with chopped parsley, grated Parmesan, and lemon wedges if desired
Instructions
Season the chicken with salt and pepper.
Set Instant Pot to the saute setting – high. Add olive oil, onions, and garlic. Stir and cook for 3 minutes.
Stir in the carrots, celery, parsley, thyme, bay leaf, salt and pepper. Then pour in the chicken stock and add the chicken.
Lock the Instant Pot lid into place and set the soup/broth pressure setting for 15 minutes. The IP will take 20-23 minutes to pressurize and then it will start counting down the cook time.
Once the Instant Pot cycle is complete, manually release pressure by rotating the valve to the "Venting" position. Although it's not "officially" recommended, many people choose to cover the nozzle loosely with a kitchen towel before releasing pressure.
Venting should take about 5 minutes. Once complete, carefully unlock and remove the lid.
Remove the chicken from the soup. Turn the Instant Pot to sauté mode. When the broth comes to a boil, add noodles, cook for about 5-6 minutes, then turn off (the package says to cook them longer but the noodles will continue to cook while in the pot).
Shred with two forks, and discard the bones. Return the chicken to the pot. Taste and season with more salt and pepper as desired, and garnish with additional parsley. Serve with Parmesan cheese and lemon wedges if desired.
Notes
*If you like more liquid in your soup, use less chicken (11/2 lbs) for this recipe.
*If desired, add a little more stock at the end to thin out the soup.
*There are different sizes of egg noddles.  Mine were quite large.  Whatever egg noodle you choose, a good rule of thumb is to cook them half the time the package suggests for this recipe.
* For this recipe I used the Duo Plus 6QT 9-in-1 Instant Pot!
Nutrition Information
Yield
8
Serving Size
8-10 ounces
Amount Per Serving
Calories

368
Total Fat

17g
Saturated Fat

4g
Unsaturated Fat

0g
Cholesterol

85mg
Sodium

678mg
Carbohydrates

27g
Fiber

1g
Sugar

5g
Protein

24g
Looking for more amazing Chicken Soup Recipes?