This is a sponsored conversation written by me on behalf of Buen Sabor; the opinions and text are all mine. These Chipotle Chicken and Cheese Empanadas are a delicious quick and healthy meal the whole family will love! From freezer to table in less than 20 minutes!
We all have a few go-to, quick and easy, freezer meals on hand for those days when the car breaks down, the kiddos get a stomach bug, or the roast that was supposed to go in the crock-pot that morning is still frozen solid. #truestory
You know, those days when creating a healthy, well-balanced meal is not even an option… and quite frankly the last thing on our minds.🙃
You know what I'm talkin' about – right? Maybe it was just yesterday for you – or maybe three out of the seven days last week?😮
And if we're really honest, those go-to freezer meals we have on hand are laden with things that we would probably rather not ingest! Let's just leave it at that.🤐
We know they're not so healthy, but what's a girl or guy to do? Sometimes you just have to make sacrifices.
But what if you didn't??🤔
What if you could have a delicious, frozen meal on hand that's quick AND healthy?
Something that's farm-to-hand with bold flavor, great taste, made with cage-free chicken, and finished with a handcrafted (and food-truck-worthy) crust.
Wha wha whaaaa?? Real talk people. It's a thing.👇
Let me introduce you to your new best food friend…Buen Sabor's Chipotle Chicken & Cheese Empanadas!✨ We recently picked some up at BJ's and they are crazy good! We're talking food truck flavored deliciousness right in the comfort of your own home.🙌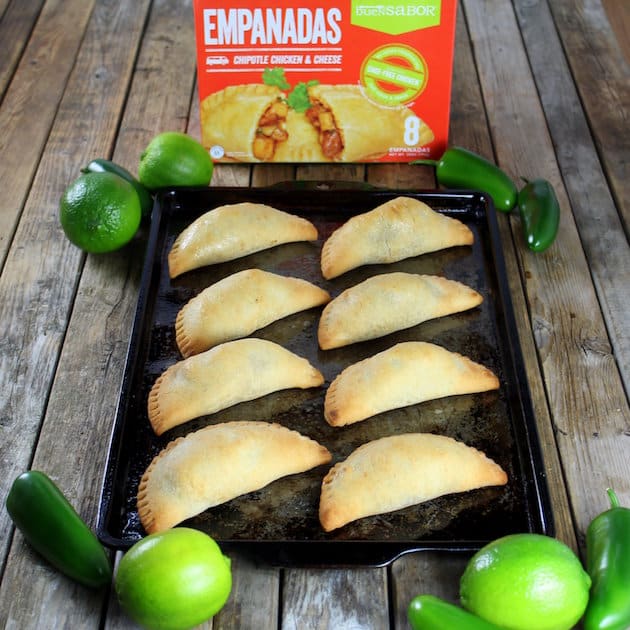 These little purses of yumminess are filled with cage-free chicken, russet potatoes, Monterey Jack cheese, and smoky chipotles. Literally full of fresh, simple and clean ingredients with:
No preservatives;
No added colors or dyes;
No synthetic ingredients;
No artificial growth hormones or antibiotics;
100% GMO free plant-based ingredients;
Junk free, Hype free;
Ingredients you can actually pronounce!
Plus, they're so simple to prepare – your kids could literally make dinner for you.👍
You take the empanadas out of the box, remove the plastic overwrap, and either: bake in a 375 degree oven for 18 minutes, pan fry in a little oil for 4 minutes a side, or microwave for a minute and a half – until the internal temp reads 165 degrees.
But wait, just when you thought it couldn't get any better – it does.
Buen Sabor has recently partnered with BJ's to bring you a convenient family sized 8-pack of these Mexican chicken empanadas, vs. the 2-pack offered at other retailers. AND they're giving you a $1.00 off coupon just because they can. Grab that coupon here! 👏👏
Buen Sabor is a company that really cares about the food you eat. They believe food can be simple, crave-worthy, and still come from the freezer. They're on a quest to solve the "busy person's food dilemma" – one meal at a time.
Now that's something I can get excited about!🎉
I'm always cooking and testing recipes over here. But many times what I'm working on is not what's for dinner. Oh no. The B man can attest to this slightly painful fact.
All the yummy smells are wafting through the house, everyone's getting hungrier by the minute. But all that deliciousness that is making our mouths water – can't be eaten! Nope – it has to get photographed first.📷
Many times that can be a lengthy delay. By that time B has almost chewed his arm off, or just ordered himself a pizza.🍕 So I'm more than thrilled to have a healthy, quick freezer meal on hand for just such an occasion.🙏
I'm sure your circumstances are a bit different, but I bet you can relate. Sometimes you just need to hit the "easy" button and not feel bad about it. And thanks to these yummy chicken empanadas, now you can!🎊
Be sure to stop by your local BJ's and stock up on your new go-to quick and healthy, family freezer meal – Chipotle Chicken & Cheese Empanadas!💛
You and the whole family will be so glad you did!!